I was introduced to black salve through Cameron, who is an avid health researcher, and co-author of this blog.

While neither of us has diagnosed cancer (thank God), we both had suspicious looking moles on our backs.

Black salve is a herbal paste and is made from a combination of several ingredients including blood root. You can make this stuff yourself at home if you follow the directions given on the DVD (link at end of post). It has been used for hundreds of years (in fact, up until the 1920's it was available in chemists). You only have to apply it ONCE. After that, your body takes over. I did two applications because I didn't apply enough the first time. One application should be all you need for a small area.
We did lots of research and watched a fantastic DVD (link to that is at the end of this post), before we even thought of purchasing the Black Salve. I am very cautious when it comes to trying new things, so we did plenty of reading before ordering it.
Cam purchased the black salve to have on hand "just in case".

However, after learning that the black salve has little to no reaction on benign areas, we decided to try it on our moles. What better way to see if they needed removing...if they didn't the salve would not cause any reaction, and if they did then the salve would see to that as well!

Cameron's GP has told him that his particular mole needed to be removed from his back, as it was very suspicious looking, and had changed dramatically in the last six months. I wanted to try it out on a mole I had on my back, which was quite scary looking. I just knew the doctors would suggest removal "just to be sure" and I am not a fan of having flesh cut out of me.

My mole had always been a worry to me, but I ignored it for years, even as it grew and changed colour. Thank goodness for this alternative!

We both applied the salve to our moles and Cam's mole showed no reaction the following day. Mine did however, and the following post is all about the days that followed.



Warning! The following contains graphic images which may upset some readers. If you are easily grossed out then please don't keep reading...



Before photos:
Day one (4th December):

We each washed and sanitised our hands before applying the black salve on each other.

We applied a small amount over the moles.

This stuff goes a long way so we didn't need much.

After application we then covered the area with a large dressing.

Within minutes I could feel that area tingling, like a pins and needles sensation.

This tingling sensation occurred a few times during the next 12 hours.
Day two:

You are supposed to leave the black salve on for 24 hours before removing it, but I have never been one for patience.

So at the 12 hour mark I had to take a peak.

The majority of the black salve was now attached to my dressing as opposed to my back, so we were able to see quite clearly what was going on.

The mole had increased in size, due to some swelling.

There was also redness where the salve had been.

Since there had been a slight reaction, we decided to go all or nothing, and put more salve on.

This time the tingling was more pronounced, and that evening I also felt a slight stinging.
12 Hour photo: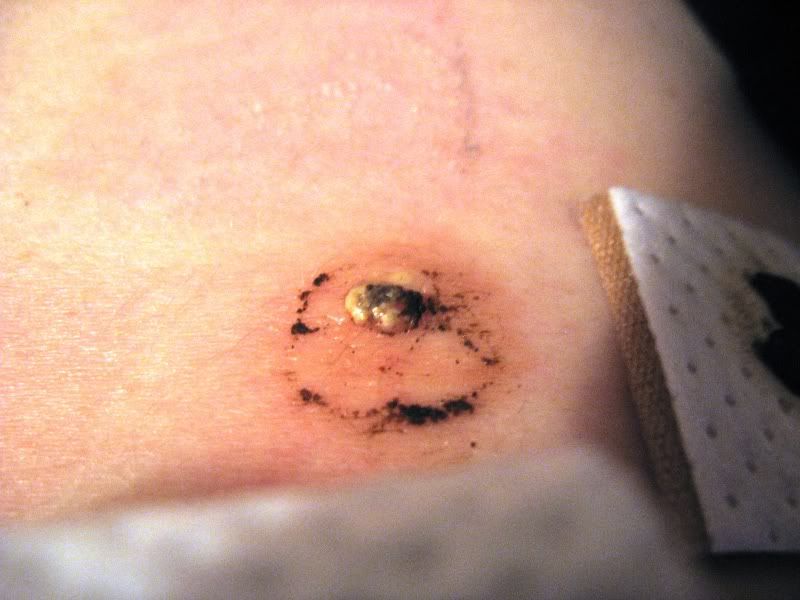 Day three:

We used hydrogen peroxide to gently remove the black salve that was still on the area.

I was expecting this to sting a lot but this was not the case at all.

Hiding underneath the thin layer of black salve was...an eschar!

I couldn't believe it!

Clearly there was something going on that caused the black salve to react so strongly to it.

We re-dressed the area with a large dressing and I managed to forget about it for a while.

That evening was when the pain began.

It was as though it was throbbing and stinging at the same time.

It's a strange kind of pain...I knew something was going on.

I am very reluctant to take pain killers so I didn't, and the pain soon subsided.


Day three photo:

Day four:

Woke up this morning to find that the red area around the eschar had developed some blister like bumps.

Not sure what these are but I trust in the salve, and will wait to see what happens.

The pain was more prominent today and I had to take two panadeine pills.

It's interesting because it doesn't constantly hurt, but it's more like the pain comes in waves and sometimes disappears entirely.

The pain seems to be coming from under the eschar and I am very curious to know what's going on there.
Day four photo:

Photo taken in the afternoon.
Day five:

What's noticeable today is a small black mark above and to the right of my eschar.

There is also a yellow line leading to this mark now.

It seems like this salve ferociously hunts down anything that shouldn't be there and attacks it.

The blisters haven't changed much.

I was travelling by plane today so I took a couple of pain killers as it was hurting slightly and plane seats are not comfortable at the best of times.

I know the pain I am feeling is worth it and I cannot wait for the eschar to fall out.
Day five photo:
 Day six:

More changes over night!

I am amazed at how the area changes on a daily basis, even days after the black salve was removed.

The yellow line leading to the small black area has enlarged a lot overnight and is very obvious today.

All but a few of the 'blisters' have disappeared, and the ones that remain seemed to have grown slightly.

I am curious as to whether or not they are eschars as well.

The thing still hurts but not as bad as day four, and no pain killers were needed.

Thankfully, not even running water in the shower seems to cause pain, and I'm sure it looks far worse than it actually is.

There was a slight amount of seepage (gross, I know) today.
Day six photo:
Photo taken in the morning. Coin is an Australian 5c piece.


Photo taken in the evening.

Day seven:

The eschar seems to change every day, and today is no exception.

It is looking a lot dryer today and some of the seepage seems to have crystallised.

When I checked on it and photographed it again in the afternoon, the tiny black eschar towards the top had fallen off!

This has given me hope that the larger one will eventually fall off as well.


Day seven photo:
Day eight:

Another huge change overnight.

The two 'blisters' towards the top and bottom of the large eschar have disappeared.

The eschar itself appears to be drying out more, and there was more seepage during the night.

I am really hoping this thing doesn't just completely heal over and not fall out...this is not something I want to keep in my body!

The fact that the salve has had such a huge affect on it tells me loud and clear that this mole was highly suspicious.

Now all I want is to be rid of it.


Day eight photos:

Photo taken in the morning.

Photo taken in the afternoon
(please excuse sticky residue from the dressing).


Day nine:

The area itched like mad last night.

I must say though, that I don't mind the itching or even the slight pain, because it lets me know that something is going on.

I peeled back the dressing this morning to find that it was quite literally oozing pus before my eyes.

Not a pretty look, but it's much better coming out than staying in there!

It also appears to still be drying out around the edges, so I am hoping that this will lead to it eventually falling off.

It was much dryer looking in the afternoon and it appeared to be weeping less.

It might be my imagination, but the top left corner looks as though it is lifting slightly.

Maybe day ten will be the day it falls out!

One can only hope.


Day nine photos:

Photo taken in the morning.

Photo taken in the evening.



Day ten:

Woke up this morning and it had fallen off!!

The eschar was smaller than I expected, but that is a good thing I think.

I know that if this thing had roots further down, that the black salve would have reached it and pulled it out.

As it is, I am glad that it's off!

There is a small cavity left where the eschar was, but at the moment it is weeping a lot, and has quite a bit of pus in it still.

Feeling a little bit of discomfort tonight, but I don't doubt that there will be another dramatic change by morning.

From what I have seen of other people's black salve sites, they do appear to heal very quickly so that is encouraging.

Will keep you posted on the healing process next.

Day ten photos:

The eschar on the dressing...better out than in as they say.

The slight hole left behind.

 Day eleven:

Woke up this morning to find a fat ball of pus on the dressing.

The hole itself looks bigger now, and a lot better than it did yesterday.

It is still weeping a lot but it looks as though the hole is starting to dry out and heal around the edges.

It's been giving me a bit of pain this afternoon but only to the point where it's more a nuisance than anything else.


Day eleven photos:


Photo taken in the morning.
Photo taken in the evening.

The allergy I've had to the dressing has really flared up tonight and I think that is causing me some aggravation too.

The hole seems to be healing a lot, even in the space of twelve hours.

Looking forward to it being entirely healed over so I can go without the dressing, but for now it's essential to prevent infection.
Six weeks later...

Well, it's been a whole month since I went through this process, and you would not recognise my back now. It has healed so well and is continuing to heal. I apply aloe vera gel to it (100% aloe vera) and take a zinc supplement to increase healing. I am a slow healer at the best of times, so I am really pleased with the result so far. Photo to come.

If you are interested in learning more about how to use Black Salve, and where to purchase it (this is the stockist we used and it's the only reliable place in Australia to buy it from), please follow the link below:
Beven Potters Online Store
To purhcase the DVD which explains how to use Black Salve, and features testimonials from many Australians (including doctors) who have used it successfully for everything from skin, breast and thyroid cancer, click here:
One Answer to Cancer DVD
To read an amazing testimonial from a fellow aussie, check out Bill O'Leary's website. He cured his basal cell carcinoma using the black salve, and documents the process in a well written and entertaining way. Click here to read his story: Bill's story
- Kate